I hope everyone had a nice Easter Sunday. I thought I'd start your week off with something I really love, crab cakes. I hope you will enjoy this yummy twist.
What You need
1 Lb. Fresh crab meat  crumbled (okay to use canned just drain well)
4 Tbsp sour cream
2 Large eggs ( lightly beaten)
2 Cups fresh breadcrumbs ( soft)
4 Tbsp fresh lemon juice
1 ½  tsp  Seafood seasoning ( I use Old Bay)
1 /2 tsp Black pepper
2 Tbsp olive oil
1 Tbsp butter ( unsalted)
2 Hoagie buns
2 pieces romain lettuce
Large bowl
Non stick skillet
Non stick cooking spray
Parchment paper
Tray or platter at least 12 inches in diameter
Before You Start :  Note that this recipe requires chilling before cooking. Line your plate or tray with parchment paper.
Lets Make It! In a bowl combine, sour cream, bread crumbs, lemon and seafood seasoning, mix well and add the crab, combine with a fork until well blended.  Divide the mixture into six equal shares. Spray the palms  of your hands lightly with non stick cooking spray ( to keep from sticking)  and form six crab cakes ( about 4 inch patties), place plate or tray and put in the refrigerator for about one hour to set. In a non stick skillet over medium high heat melt butter and olive oil, add the crab cakes, and cook for about 5 minutes on each side (or until golden.) Place on your favorite hoagie bun, add lettuce (pickles, tomatoes, your favorite condiments, etc.)
Serves 2
**Katies Tid Bits- Toast your buns for a little extra crunch, and trying adding a little avocado too.
Do you have a favorite crab cake recipe?
Did you see the new What's Cooking giveaway?
Inviting you to visit my other blog and leave some comment love .
linking to- 
<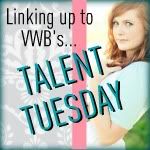 Please DO NOT leave links in your comments, thank you ♥

I do my best to reply to all comments via email, please be patient with me ♥

I'm sharing and linking at theses parties and hops CLICK HERE

Stay connected to Katherines Corner.You won't miss a thing when I pop into your in bin ♥

Click on the notify me of new posts by email below or click on the right sidebar for ways to follow or follow through bloglovin.